Our Mission and History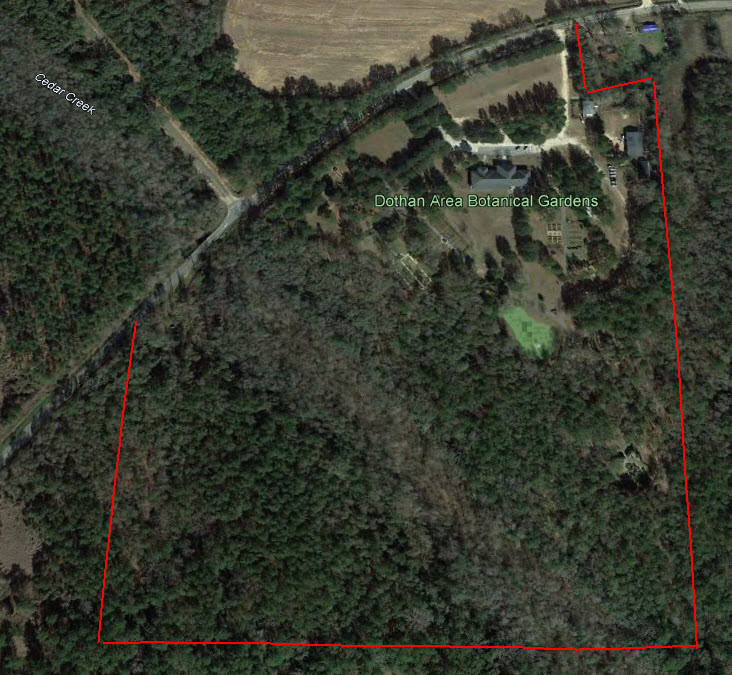 Located in southeast Alabama, at 5130 Headland Avenue, just off U.S. Highway 431 between Dothan and Headland.
Our Mission
DABG's mission is to provide an enhancement to the quality of life for Wiregrass citizens, to serve as an educational resource for children and adults in garden lore and environmental issues, and to be a vibrant area attraction that promotes tourism and economic development in southeast Alabama.
Click on DABG Video to download a video about DABG.
Our History
The Dothan Area Botanical Gardens was established as an organization in July of 1991 and granted non-profit status in November 1991. A 50 acre farmstead was purchased from the Whiddon family of Headland in September of 1994. The front entrance brick work was constructed during the summer of 1995 and the rest is history.
The Garden now consists of 24 gardens or areas of interest which are joined by a paved trail. DABG has developed steadily under the leadership of an all-volunteer Board of Directors, which is committed to the conservation of natural resources for future generations.
Most Garden areas are accessible to visitors with disabilities and Group Tours are available by reservation. Please allow at least two days notice for any tours.
Picnic tables are available free of charge. However, since trash receptacles are not readily available throughout the Gardens, we ask that all visitors please take their trash with them when they leave. The pavilion is available for rental.
Guidelines
For the safety and enjoyment of all visitors, and to protect the Gardens, we ask that all visitors please respect the following guidelines:
The Dothan Area Botanical Gardens is designated as a Smoke-Free facility. Thank you for not smoking anywhere on the grounds during your visit.
No swimming, wading, fishing or throwing of any objects into any body of water.
Bicycles, roller blades, skateboards, and loud music are not permitted.
Dogs are permitted but we ask that you keep them on a leash at all times. Plus, please take with you anything that your dog leaves behind.
You can conduct a virtual tour of the Gardens on this website and explore many of the areas in DABG and see a sampling of the many future events , but we hope you'll stop by and visit us soon… there's lots to see!
And we would also appreciate it if you would consider becoming a supporting member of the Dothan Area Botanical Gardens.
---