What's New at DABG?
Gardens Establishes Horticulture Department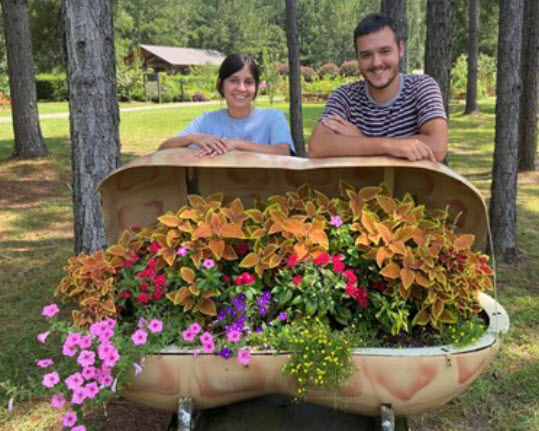 The DABG is proud to announce the beginning of an official Horticultural Department. Josh Cook will serve as our Garden Manager and will be responsible for overseeing the horticultural operations of our facility. He will also serve as volunteer coordinator. Josh holds a Master's Degree in Horticulture from Auburn University and graduated in 2020. He was born and raised in the Wicksburg area and has a special interest in fruit production and regenerative agriculture.
Caitlyn Clark is a familiar face as she has worked on a part time basis at DABG for about one year. She is a Master Gardener and earned her BS Degree in Alternative Medicine in 2018 from Everglades University. Caitlyn was born in Dothan and has a special interest in herbs and medicinal plants.
We are excited about this new development and the positive impact these two employees will have upon the Gardens. Both Caitlyn and Josh will work part-time, sharing their talents and enthusiasm for the plant world with us. The next time you are at the Gardens, look them up and say 'Hello!'.
---
New Garden sculpture
A new contemporary art project created by DABG board member Mark Shertzer has been added to honor charter board member Reafield Vester. Reafield served for over 36 years in the Alabama Cooperative Extension where he helped coordinate the local Master Gardeners organization and was instrumental in the creation of the Dothan Area Botanical Gardens.
Improvements throughout the Gardens
Asphalt paving project

Property line survey.

Handicapped automatic doors for entrance and exit

Muscadine trellis in the Demonstration Garden

Storage shed for pine straw
---
---