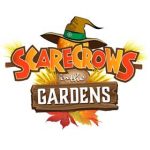 Scarecrows in the Gardens
"Scarecrows in the Gardens" first begun in 2004 returns daily for the entire month of October. This event is open to families, business, schools, businesses, and civic and non-profit organizations. Get your gang together and see what kind of creative entry you can come up with. One Sunday afternoon in October is designated as Open House for everyone to vote for their favorite 'crow. Pictured above is the 2021 People's Choice Winner "Chinese New Year" by Houston Academy 7th and 8th Art for the theme "Every Day's a Holiday".
A different theme is selected each year. Cash prizes are given to the top 5 overall winners and to the best school entry. This can be a great family activity or an excellent team-building project for your work group or organization. Several scarecrow-building workshops are conducted in late summer.
We hope to see everyone at the Gardens in October to check out the 'crows!